The Arctic Circle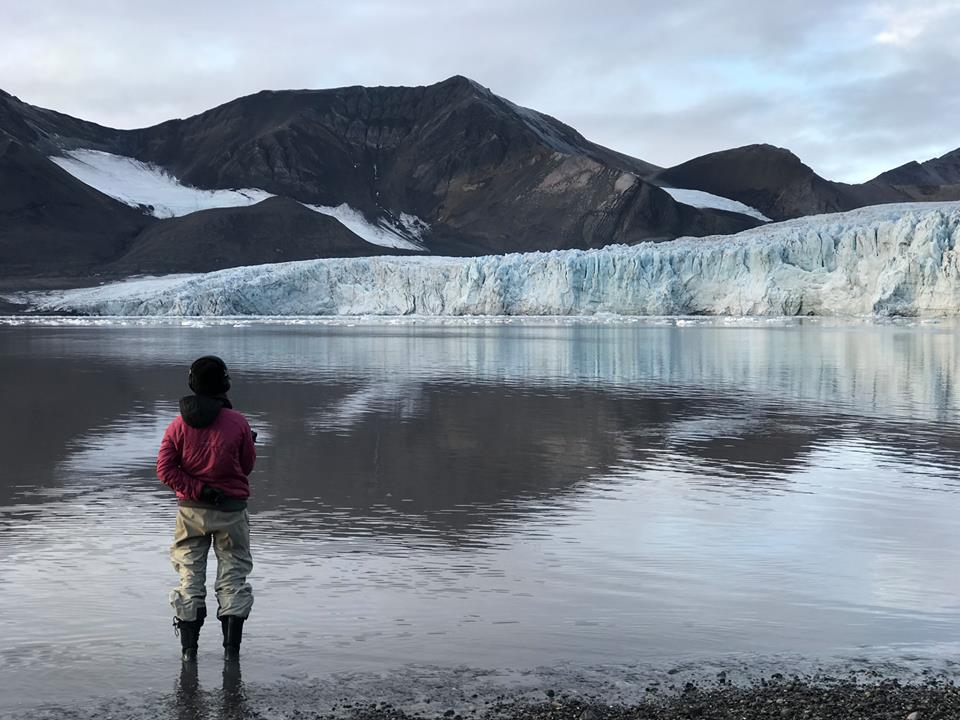 Photos: Annique Goldberg, Claire Dibble, Julie Kusyk, Nung-Hsin Hu, Amélie Laurence Fortin
The Arctic Circle
Résidence pour artistes et scientifiques
Svalbard, 2017

The Arctic Circle
Artists & Scientific Residency Program
Svalbard, 2017
J'ai été sélectionnée pour l'édition automnale 2017 de Arctic Circle Residency Program, un programme de résidence-expédition mobile organisé par The Farm Foundation for Art and Science, un organisme à but non lucratif établit dans l'état de New York qui organise et met en place un espace de recherche et de rencontres entre des chercheurs et créateurs de partout dans le monde autour des enjeux climatiques de l'arctique, et ce depuis 2009.

Au départ du port de Longyearbyen, Svalbard, sur une goélette trois-mâts et avec des arrêts au sol, je naviguerai autour dans l'arctique nord pour la création d'une installation qui sera présentée à Axénéo7 en janvier 2018.

Mon aventure sera inspirée et de la très étudiée carte de Mercador (1595) et des aventures du navigateur Pythéas (325 BC). J'irai donc à la recherche de ce rocher noir imaginé au pôle nord par Gerard Mercador et également à la recherche du poumon marin décrit par Pythéas. Ma présence sera aussi l'occasion de développer mon premier projet d'enregistrement sonore et sous-marin.


---
I have been selected for the fall 2017 edition of the Arctic Circle Residency Program, a unique mobile residency-expedition program organized by The Farm Foundation for Art and Science, a non-profit organization established in the State of New York, which has been organizing and setting up a space for research and for encounters between researchers and creators around the world around the Arctic climate issues since 2009.

From the port of Longyearbyen, Svalbard, on a Barkentine Tall Ship and with some stops on the ground, I will navigate in the High Arctic in order to create an installation at Axeneo7 Gallery in January 2018.

My adventure will be inspired by the black stone located on the North pole drowned by Gerard Mercador (1595) on the infamous Mercador map and the sea lung described in the Pythias Voyages (325 BC). I will also use this amazing experience to record diverses sounds including the underwater sounds.


---
---
LINKS
Arctic Circle WEBSITE
BLOG Autour du cercle Arctic FACEBOOK

PRESS
LE SOLEIL, Arts et spectacles, Josiane Desloges
LE JOURNAL DE LÉVIS, À la une, Valérie Maltais
CKRL, L'Aérospatial, émission du 7 novembre 2017, Audrey Careau


---

Remerciements / Thanks to
Conseil des arts du Canada , Avatar , BAFFIN
Nataliya Petkova, Georges-Étienne Fortin, Claude Edgar Dalpond, L'Anglicane, Moïse Piuze, Lalie Douglas, Norbert Langlois, Pierre Lainesse, Juliane Charbonneau, Wartin Pantois, Catherine Bélanger, Martin Laberge, Jacques Fortin, Justine Rainville, Stéphanie Constant, Denis Simard, François Raymond, Anne-Christine Guy Ban-Éthat, Marie-Hélène Dorée, Pierre et Marie, Étienne Boulanger, Giorgia Volpe, Anne-Marie Rainville, Yves Lajoie, Vicky Sabourin, Roxanne Guévin, Olivier Caron, Richard Ferron, Marie-Ève Charlebois, Hugues Skene, Hélène Lambert, Gilles Roussy, Lucette Bélanger et tous ceux et celles qui m'ont envoyé des mots d'encouragement, qui ont cru en mon projet, qui ont rêvé avec moi et qui ont partagés mes liens.


---