SUNBURST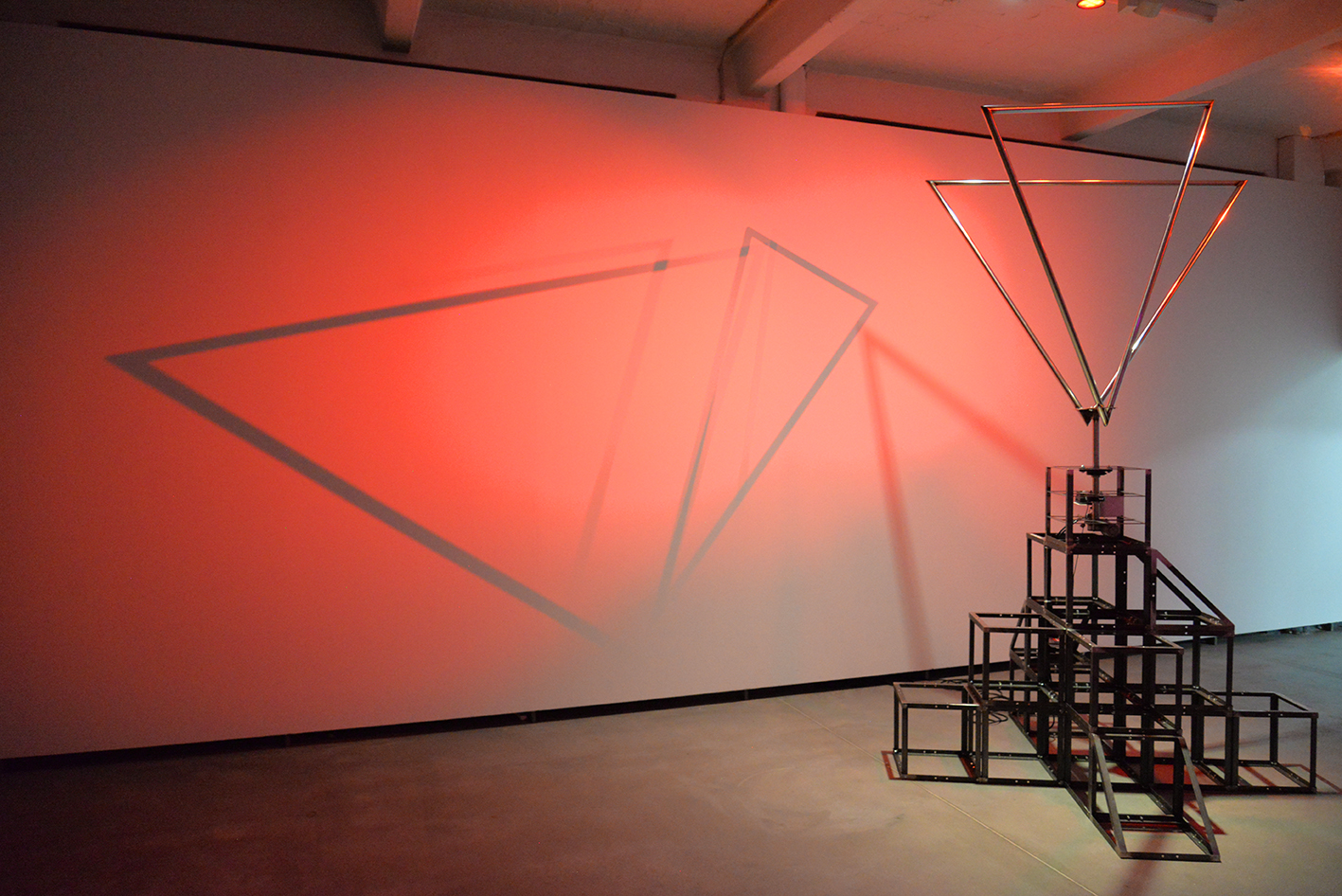 Photos: Amélie Laurence Fortin
SUNBURST
October 2nd - October 25 th 2020
Künstlerhaus Bethanien gallery, Berlin, Germany
To be launched November 5th 2020 at Kikk Festival, Namur, Belgique
To be lauched February 5th 2021 at Festival Mois Multi, Quebec City, Canada
Amélie Laurence Fortin's exhibition SUNBURST at Künstlerhaus Bethanien is the result of a months-long experiment with solar energy. During this time, using nothing but a length of red foil and what was available in the kitchen, the artist staged a solitary performance, playing with the beams of light that entered through a skylight into the attic room of an undisclosed apartment—eventually returning with a camera to produce the video piece displayed in SUNBURST.
Alongside this work, Fortin has also produced a kinetic object, which is based, like many of her recent sculptural works are, on cosmic shapes. Made from stainless steel and spot lit using colored foil, the sculpture revolves at a "hypnotic" pace in a non-linear fashion, its movement led from data from forecast reports of solar and geophysical activity. Seen together, this new body of work represent Fortin's continuation of a "cycle" of work about the sun, in particular, solar storms and other natural phenomena.
---
SUNBURST
2. Oktober - 25. Oktober 2020, Galerie Künstlerhaus Bethanien, Berlin, Deutschland
Wird am 5. November 2020 beim Kikk Festival in Namur, Belgien, eröffnet.
Eröffnet am 5. Februar 2021 beim Festival Mois Multi, Quebec City, Kanada.

Die Ausstellung SUNBURST von Amélie Laurence Fortin im Künstlerhaus Bethanien ist das Ergebnis monatelangen Experimentierens mit Solarenergie. Mit den Kanten einer roten Folie und Objekten, die sie in der Küche finden
konnte, inszenierte die Künstlerin eine Performance, in der sie mit den Lichtstrahlen spielte, die durch das Fenster in den Dachboden einer ihr unbekannten Wohnung eindrangen – um später mit einer Kamera an diesen Ort
zurückzukehren, um die Videoarbeit SUNBURST zu produzieren.

Neben dieser Arbeit entwickelte Fortin ein kinetisches Objekt, das wie viele ihrer skulpturalen Werke auf Formen basiert, die in der Natur zu finden sind. In einem "hypnotischen" Tempo dreht sich die Edelstahlskulptur, punktuell beleuchtet durch Spots mit Farbfilterfolien, im Raum, wobei ihre nichtlinearen Bewegungen auf Daten von Prognoseberichten über solare und geophysikalische Aktivitäten beruhen. Zusammen stellen diese beiden neuen Arbeiten die Fortsetzung eines Arbeitszyklus über die Sonne, insbesondere Sonnenstürme und weitere
Naturphänomene, dar.
---



ARCHIVE VIDEO : Upcoming

LINKS
Künstlerhaus Bethanien
Facebook event

PRESS
Berlin Art Link


---
Remerciements / Thanks to :
Ministère des Relations internationales et de la Francophonie du Québec, Québec Government Office in Berlin, Conseil des arts et des lettres du Québec, WERKTANK, Les Production Recto-Verso, Conseil des Arts du Canada
Jean-François Lahos, Pierre-Louis Fortin, Pawel Kaminski, Kurt D'Haeseleer, Anouk Victor, Jean Couture, Karina Kle, Yoann Pisterman, Tomasz Malinowski, Weronika Malinowska, Arthur Debert, Chris Stoerzel, Toni Lebkücher, Carola Uehlken, Peter Rossman.

---