Le paysage miraculeux
Mix media installation, 2014.
Variable dimensions.
Wood, sailing ropes, climbing ropes, carabiners, cleaths, 7 framed poisonous plants, 3 light boxes.
---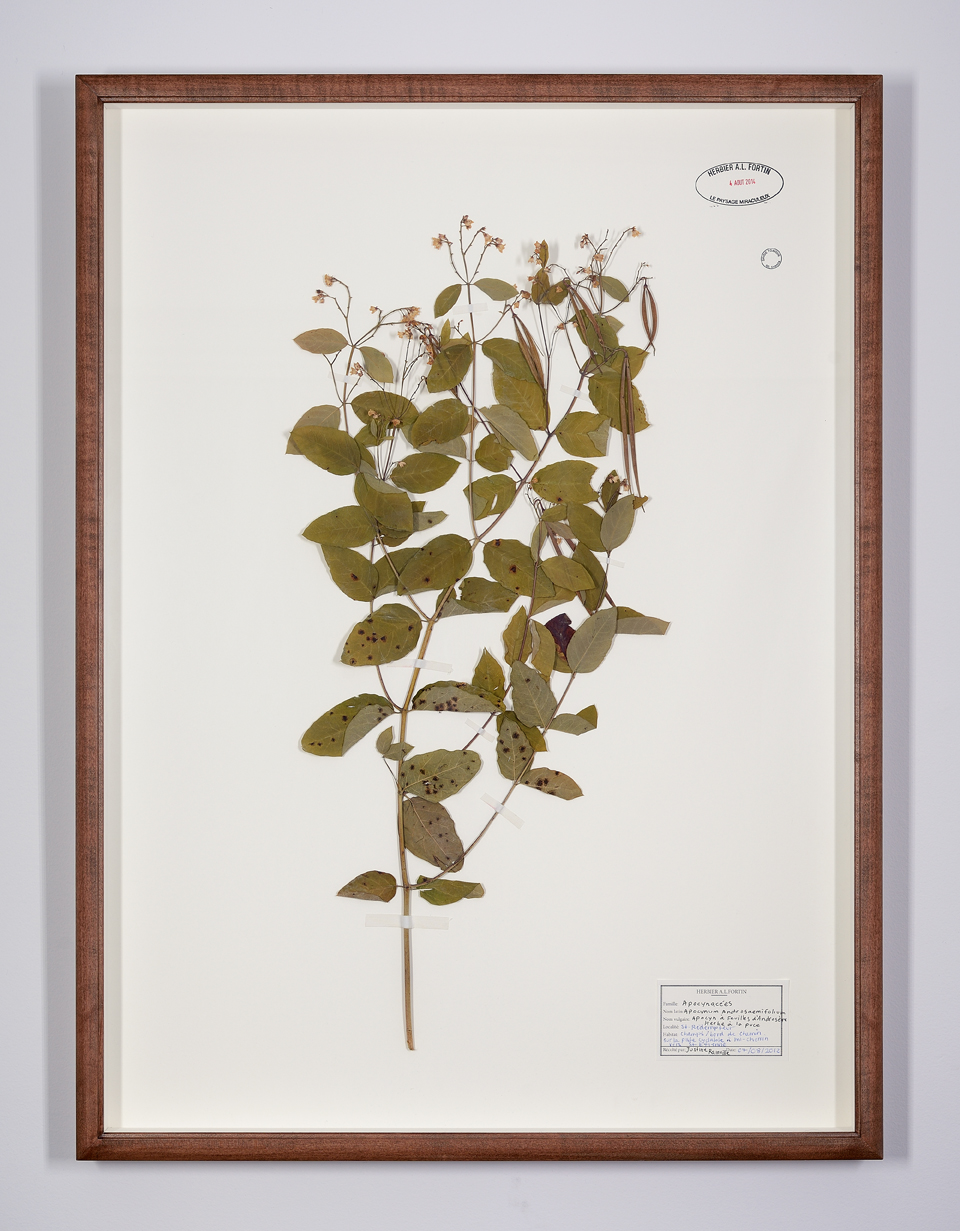 Photos: Amélie Laurence Fortin, Tanya St-Pierre, Étienne Boucher
---
Texte d'exposition

L'installation Le paysage miraculeux est le troisième Acte du projet Le roc étincelant. Ce vaste projet explore les rapports de forces qui s'installent entre l'homme et la nature dans les contextes de survie et d'aventure extrême. Le mélange entre la performance physique, l'affrontement avec la mort pour trouver un sens à la vie, le romantisme de l'épopée et le contact avec la nature sauvage permet de construire autour de l'aventurier et de son exploit, toute une culture de légendes et de mystères qui frôle parfois la magie.

Influencée à la fois par ses propres aventures en mer et en montagne mais aussi par les exploits de ses contemporains, l'étude traditionnelle et scientifique des plantes, par des architectes et théoriciens de l'habitation mobile mais aussi par les récits anciens qui relatent l'effroi et l'incompréhension de la nature, Fortin, dans Le paysage miraculeux, propose un voyage dans un paysage à la fois sublime et terrifiant."

-Line Dezainde


---
Exhibition text

The installation is the third Act of Shining Stone project. This project explores the balance of power between humans and nature in the contexts of survival and extreme adventures. The interplay between the physical performance, facing the death in a quest to find the meaning of life, the romanticism of the epic as well as the contact with the wilderness allows legends and mysteries centered around the themes of the adventurer and his feat.

Influenced by her own expeditions, the exploit of contemporary explorers, the traditional study of plants, ideas of Buckminster Fuller combined with the ancient narratives revealing the fright of the unknown nature, Fortin with Miraculous Landscape proposes a voyage into a sublime but terrifying landscape."

-Original text in French by Line Dezainde





---
ENTREVUE
(in french only)
---
---
ACKNOWLEDGMENT
Conseil des arts et lettres du Québec
André Fortin, Jacques Fortin, Pierre-Louis Fortin, Les voiles Saint-Onges, Jean-François Lahos, Herbarium de l'Université de Varsovie.